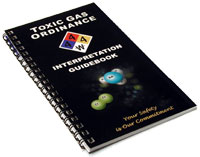 This pocket size guidebook is intended to facilitate the understanding of "Toxic Gas Ordinance" for safeguarding public life and property from the hazardous conditions arising due to the use, distribution, handling, and dispensing of toxic gases. Regulations are presented as they appear in national, state, and local codes with added field illustrations, as appropriate, to clarify their true intent.

The main features include:
Identification of TGO requirements common to California Fire Code (CFC), thus making it an invaluable reference and resource.
Graphical representations and real field illustrations from several
semiconductor-manufacturing facilities.
Organized by TGO hazard controls for easy reference.
User friendly color coding.
The guidebook has been reviewed by the staff of various regulatory agencies. 
A presentation by Harish Goyal, TGO Solutions.
Dimensions: 4"W x 6.5"H. 44 pages.